---
Welcome to The Temple of Shinigami!
July 19th, 2004- I've added to Fanfic list with a new GW fic and and a new DBZ fic. So far I've gotten pretty good praise for Compatible and I'm starting on chapter 4 soon. Take a look and judge for yourself. July 13th, 2004- For anyone who is interested: I have a little girl named
Kasey
now and she takes up most of my time, but I don't mind. I have however had time to update a bit tonight. SO check out my Fanfiction page to see all the Fanfics I've written. ALL 3 OF THEM. Ok I'm starting small...but I just finished the DBZ fic chapter that is listed there.
July 4th, 2003- Ok so I've done nothing on this site for the past year. I keep meaning to. BUT I will be coming up with a lot of free time in 3 months since I'm going to be out on Maternity Leave from work.
I'm Sad to announce however if I have a boy my mother has forbidden me to name him Heero....Oh Well. July 15th,2002- Well I've just completed a number of updates. The main one being that the wallpaper page is now up and running. Also you can now add your own favorite websites to the links page. The next project is to post my fanfics on this site because Fanfiction.net is way too unstable for my liking.
---
If you'd like to link to this page save the image below to your webpage and then copy and paste the following code to your webpage.
My Personal Ramblings
I love all of the characters in the series...truthfully all of them...even those people who are only seen yelling "IT'S A GUNDAM!" However I would have to say my favorite character would be of course Duo Maxwell, who very very barely beat out Heero Yuy for the position. I never really understood why I liked Duo....at least more than the others, that was until today (June 19th, 2001), I was discussing GW with my best friend (whom I've been able to get addicted to the series), She informed me after watching only 6 episodes that Heero was her favorite character, I told her mine and she had figured that out already, when I questioned her this she simply said it's because I'm alot like him. I suppose she's right in a way. I know I'm especially like him in the fact that I hide behind my grin...and I know of a number of people who look at me and wonder if I'm even capable of being serious because I always seem to be happy, if not crazy lookin'.
I'd also like to say that my best friend bought a beta fish a while back and all was good until one day he tried to commit suicide by jumping out of his tank. That's what she gets for naming him Heero!
---

I'd like to thank Paul Eric Lagace of &nbsp Kintex Design &nbsp for his work on the graphics that he made specifically for this webpage!

View My Guestbook
Sign My Guestbook
---
---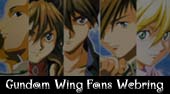 This Gundam Wing Fans Net Ring
owned by Temple of Shinigami
[ Skip Next | Next 5 Sites | Random Site | List Sites ]